OFFICE HOURS & APPOINTMENTS DURING COVID 19
In our continuing efforts to ensure the safety and well-being of our patients and staff during the COVID-19 pandemic, we are pleased to announce that we have launched a new integrated patient intake system that not only allows you to electronically complete and sign all necessary paperwork, but also to schedule and manage your appointments online.  This secure, easy to use tool is HIPAA compliant and available to you 24/7 using your personal computer or tablet.  In addition to the health benefit of reduced time interacting with front desk staff, with online scheduling you have the ability with a few clicks to:
View availability and pick the appointments that are most convenient for you

Choose from onsite clinics, home visits and telehealth options

​Make recurring appointments for up to 4 weeks in advance

Receive automated appointment reminders via email, text or phone call
ALL of our offices are OPEN and ALL of our specialties (Vestibular, Hand and Pelvic Health) are available! 
Click on the button to complete online COVID-19 Health Screen prior to your appointment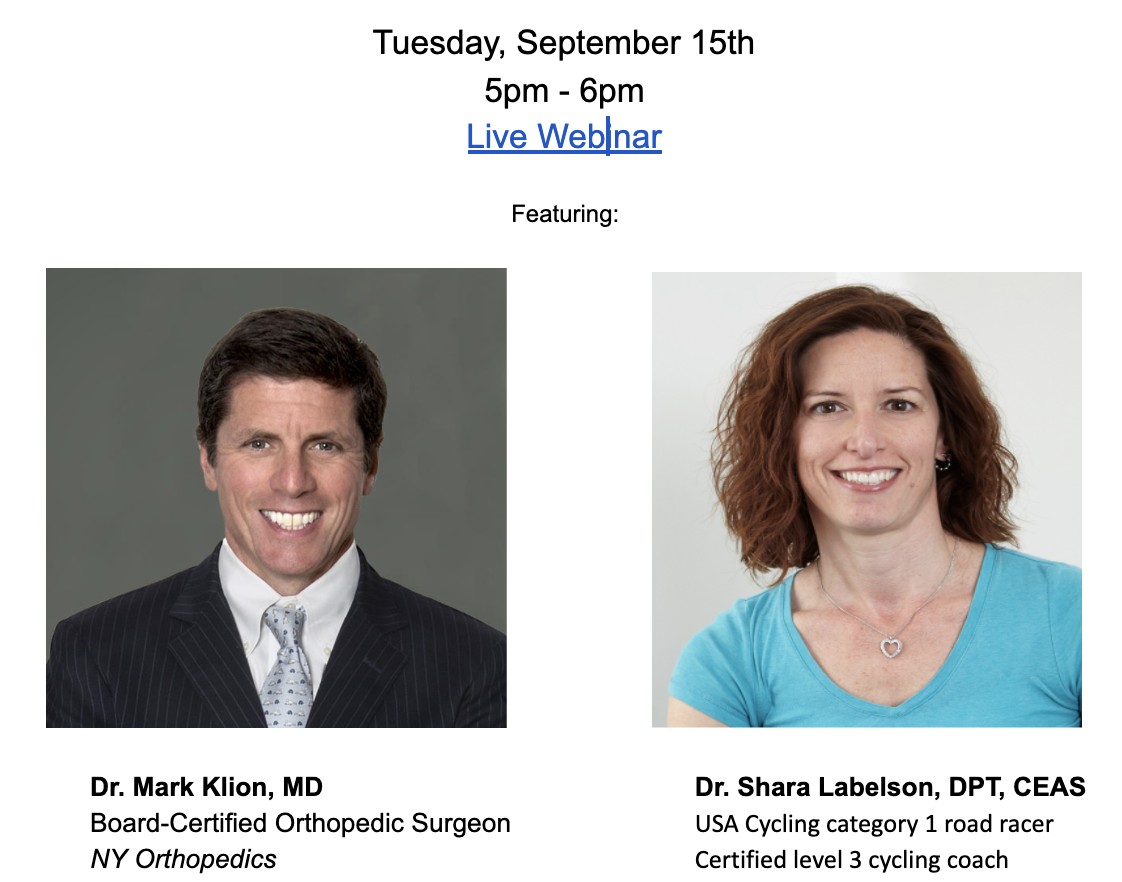 How to stay pain-free on your bicycle.
During the pandemic, New York City saw over a 60% increase in bicycle ridership.  Bike shops were deemed an essential service as the city shut down. However, as riders biked more miles than ever before, there was an increase in cycling-related repetitive strain injuries. Join Dr. Mark Klion, MD, orthopedic surgeon, Medical Director of the NYC triathlon and multiple time Ironman, and Doctor of Physical Therapy, Shara Labelson, DPT, CEAS, for an informative webinar to learn more about a sport they are both passionate about. They will discuss the biomechanics of cycling, the importance of proper bike fit, common cycling injuries (how to avoid them!) and what to do if you are experiencing pain. 
Tuesday, September 15th
5pm - 6pm
NYC's leading physical therapy clinic since 1997
We believe that in order to reach your goals, you need one-on-one time with your own personal therapist.  Our approach of combining highly skilled therapy with closely monitored personalized care has been widely recognized.  H&D has been chosen as the sole provider of therapy services for 10 fortune 500 companies.
~By Michelle Troiano, PT, DPT Physical Therapy through Zoom may not seem like it would...
FEATURED
Videos